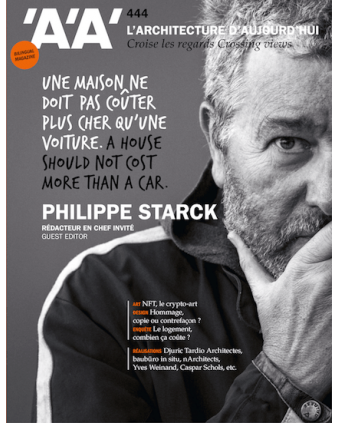 Browse
AA 444
Août 2021
Ref :
PHILIPPE STARCK
"A house should not cost more than a car". Philippe Starck, guest editor of the issue No 444 of L'Architecture d'Aujourd'hui, chose to venture into a known territory to architects, the industrialisation of house construction, because, he says, "the world of construction must cleanse itself, come back from its greed, its narcissisms and rediscover the need to give a roof to the people who are feeding a galloping demography."
ART: what about the NFT, non fungible tokens, crypto-art
DESIGN: is imitation the sincerest form of flattery?
HERITAGE: the homes of the Sears, Roebuck & Co mail-order catalogues
UTOPIAS: home sweet 3D-printed home
MANIFESTO: Philippe Starck denounces the builders-thieves
PROFILE: Philippe Starck's houses
REPORT: mobile shelters in the Netherlands by Caspar Schols; a dismantable nursery in Paris by Djuric Tardio Architects; a modular housing tower in New York by nArchitects; a wooden theater in Lausanne by Yves Weinand architect and Atelier Cube; and many other surprises.
This product is no longer in stock
Availability date: