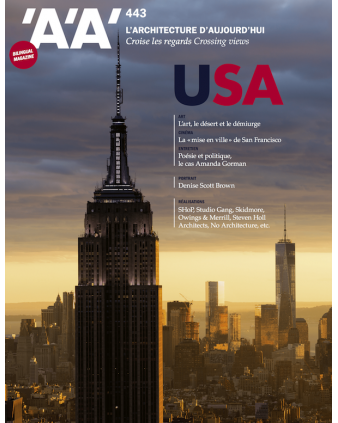 Browse
AA 443
June 2021
Ref :
USA
January 2021: The Biden administration has at last replaced that of Donald Trump. The question asked by Hashim Sarkis, curator of the 2021 Venice Architecture Biennale, seems much more meaningful: What do American architects build for? To what purpose? Who are the worthy - and less worthy - representatives of the American architectural scene? What are their answers to the Hashim Sarkis' question for the Biennale: How will we live together?
ART: land art and gigantism in the American Desert
CINEMA: San Francisco in movies
SCIENCE: the unidentified objects of Christina Agapakis
INTERVIEW: about american poetry with Morgan Parker
PORTRAIT: Denise Scott Brown
REPORT: questioning white supremacist heritage ; realisations of SHoP, Studio Gang, SOM, Steven Holl Architects and No Architecture ; architecture in Disneyland ; dystopias of the speculative architect Liam Young ; and many other surprises.
This product is no longer in stock
Availability date: