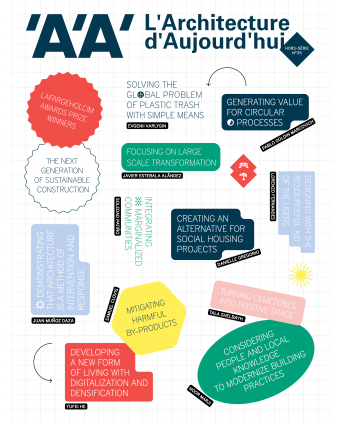 SPECIAL ISSUE NEXT GEN
June 2021
Ref :
THE NEXT GEN OF SUSTAINABLE CONSTRUCTION
Since 2008, the LafargeHolcim Awards for Sustainable Construction has gone beyond rewarding innovative projects from international agencies: the Next Generation section honors architects and designers under the age of 30 who create projects that are as innovative as they are visionary.
An underground cemetery for Amman in Jordan, feminist social housing in Brussels or even a brick made from rice, corn and coffee designed in Canada ... The new special issue of L'Architecture d'Aujourd'hui presents the 21 winning projects of this 6th edition. To talk about it, the famous names: Alejandro Aravena, Anna Heringer, Francis Kéré, Philippe Block, Michael Braungart, accompanied by many other experts in innovation and sustainable development.
For professionals and amateurs alike interested in the construction of tomorrow, this special issue is more than a catalog, a source of inspiration, food for thought or quite simply, chosen examples of a promising and committed new generation.
This product is no longer in stock
Availability date: