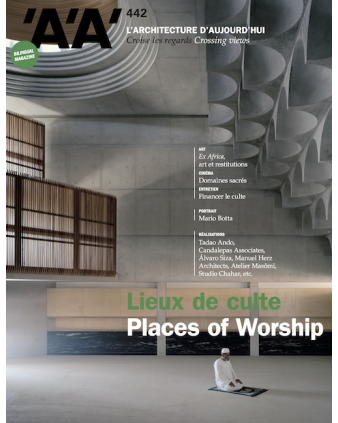 Browse
AA 442
Avril 2021
Ref :
PLACES OF WORSHIP
According to estimates made before the pandemic, 2026 will see the end of a 140-year-old construction site, that of the Sagrada Família in Barcelona, by Antoni Gaudí. In 1882, such an enterprise for the benefit of a religious institution did not surprise anyone. What about today? How do we build places of worship today?
ART: the issue of art restitution
CINEMA: religious architecture on screens
INTERVIEW: Anne Fornerod – faith, finance and influence
PORTRAIT: holly Mario Botta
REALISATIONS: a temple by Tadao Ando ; a mosque by Candalepas Associates ; a  christian centre by Inuce ; a synagogue by Manuel Herz Architects ; a church by Alvaro Siza ; a cultural centre by Atelier Masomi and Studio Chahar ; but also testimonies of the architect Meriem Chabani and Frère Charles Desjobert.
This product is no longer in stock
Availability date: