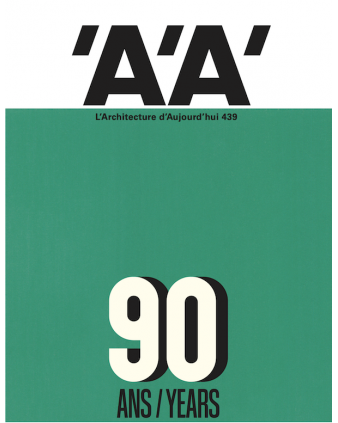 Browse
AA 439
Octobre 2020
Ref :
90 YEARS
In November 2020, AA will celebrate its 90th anniversary: ​​90 years of architecture, debates, reports, investigations, 90 years of paper, graphics, photography and drawing – that this issue 439 wishes to celebrate, through a selection of commented archives, like so many treasures which today make all the singularity of this international magazine. For the occasion, this month's report focuses on Paris and the iconic projects of its construction, which have marked both the 20th century and the pages of AA.
Portrait: Jean Nouvel
Design: The Union of Modern Artists
Projects: P. Chareau et B. Bijvoet, the Glass House, 1932; B. Zehrfuss, M. Breuer, P.L. Nervi, Unesco house, 1958; E. Aillaud, Nuages towers, 1981
Competitions: counter-competition for Les Halles, 1980; La Villette park competition, 1983
Idea: the suburban school: a tale of unfortunate critical oversight
Utopia: Paris as it could have been
Also: AA stories; memorable editorials, forums and reviews; architects tell their AA; advertising in AA; etc.
This product is no longer in stock
Availability date: