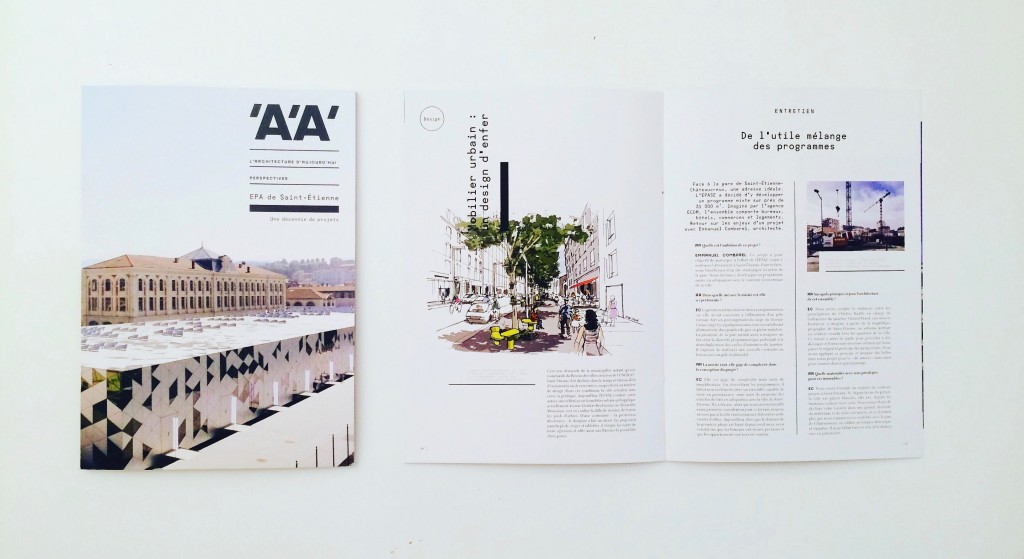 Our strengths
AA's supplements offer a detailed analysis of the urban and economical mutations of territories, illustrated with concrete actions and projects, as well as the magazine's viewpoint on prizes and exhibitions in the news.
Our team coordinates the editorial design, art direction, printing and custom-made distribution of these publications. In addition to L'Architecture d'Aujourd'hui's print issues, those 16 to 24 pages supplements are delivered to sponsors, distributed with one of AA's issues in specialist bookshops, and sent to our subscribers.
Case study: supplement on Saint Étienne's EPA
In 2017, AA has launched a series of supplements to showcase the actions of the Public Planning Institutes (Établissements Publics d'Aménagement or EPA). On the occasion of the 10th International Design Biennale in Saint-Étienne, in March 2017, we designed a specific publication to look back at architectural and urban planning projects started 10 years ago by the city's EPA. It also featured a critical assessment of the EPA's actions, interviews with institutional players, and a special focus on emblematic projects with the architects' comments.
Our audience
Public Planning Institutes, cities, towns, industry professionals, developers…
Thinking of an editorial project? Contact us:
Caterina Grosso, Deputy publisher
cgrosso@larchitecturedaujourdhui.fr
+ 33 1 58 05 17 51