This article is an extract from the issu 423, available entirely.
On January 24th, AA brought together architect Aldric Beckmann and writer Eric Reinhardt as part of a series of conversations on the creative process. A discussion hosted at Atelier Tarkett in Paris. Selected extracts.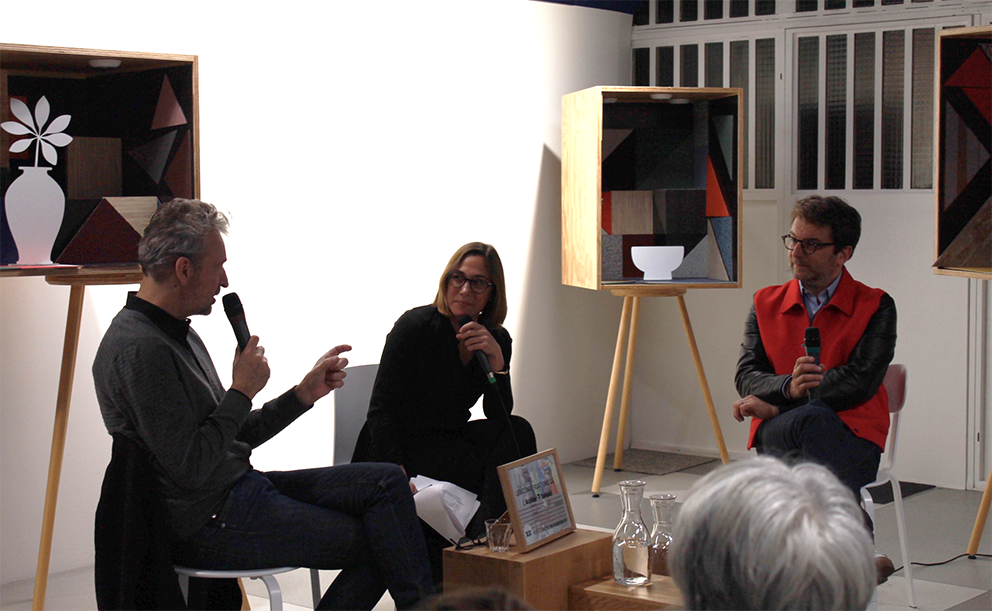 Emmanuelle Borne: The one-on-one that we have organised today brings together architecture and literature. Our guests are Éric Reinhardt, author of Cendrillon (Stock, 2007), Le Système Victoria (Stock, 2011) and La Chambre des Époux (Gallimard, 2017) among other books, and Aldric Beckmann, architect and co-founder with Françoise N'Thépé of the Beckmann N'Thépé office in 2002, best known for its gold and concrete housing block in south-eastern Paris. To set the ball rolling, what do architecture and literature have to say to each other?
Éric Reinhardt: It all depends on the writer. I am not only conscious of the effects of a novel in terms of its story, narrative, characters and situations, but also of its form, the materiality of a book – the succession of paragraphs, breaks, its structure … I am conscious of the feelings that the text may invoke in the reader, independent of what is said in the text. Christian de Portzamparc once told me that in the French embassy in Berlin, he allowed the space to expand by means of creating a confrontation between the different textures and materials of the walls and surfaces. This reminded me of what I try to achieve in my novels. Cendrillon ('Cinderella') works in exactly the same way, in that I conceived the book like a mental space that expands with the opposition and confrontation of four different narratives. It is vital to me that the narratives contrast in their energy and style so that the novel expands.
Aldric Beckmann: As far as architecture goes… its inspiration is in architecture. Of course we look for inspiration in music, literature and so forth, but first and foremost we look for it in architecture. When the architect talks about intuition in a project, I see it as an intuition that is cultivated, that gradually develops through travel, reading, people we meet. It is this cultivated intuition that leads us somewhere, in a play between past and future. When we are given a new project, when we visit a new place, this machine kicks in. It is an inspiration that is not just diffuse; it can also be very direct. For example, a few years ago we were lucky enough to win the project to redo the Vincennes Zoo [on the eastern edge of Paris] – which unfortunately never happened – and this gave rise to a whole series of projects in the practice that focus on the meeting of man, animal and nature.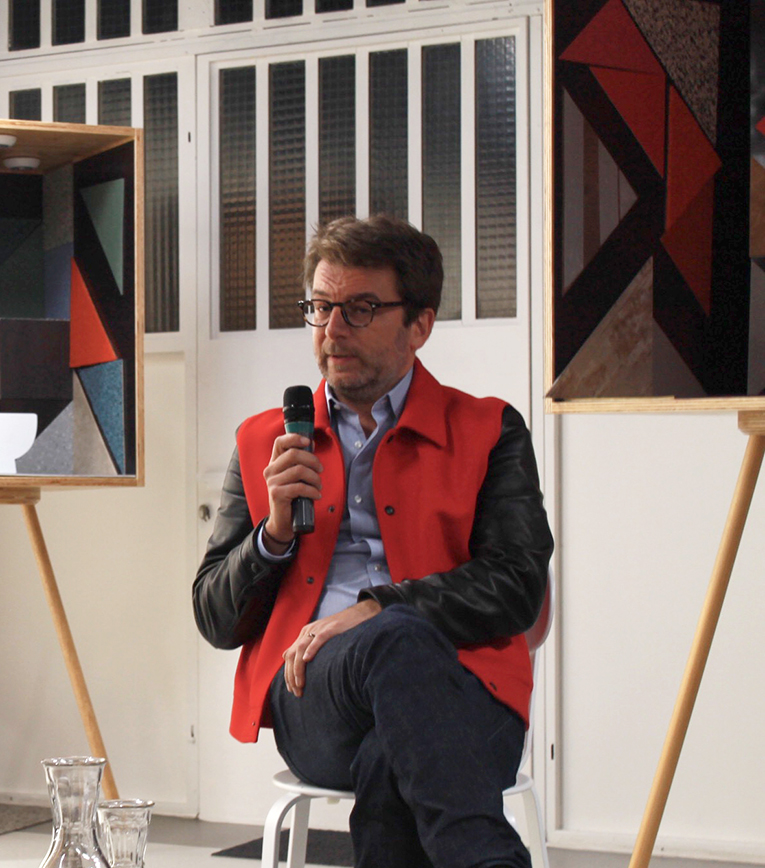 EB: In the Beckmann N'Thépé monograph published by Editions Loco in December 2016, you, Eric Reinhardt, work up a text written in the third person plural with no punctuation, seemingly a direct transcript of words spoken by Aldric Beckmann and Françoise N'Thépé. Why did you choose this form? Aldric Beckmann, how did you feel about the text?
ER: It was the concept of the book itself that lead me to it. Aldric didn't want the buildings presented in the book to be documented by drawings or models, rather that it should consist only of photographs and my texts for those projects that had not been built. I didn't want to relay their words verbatim, but rather as a stream of poetic words. I had to create an image so that once the text had been finished, the reader would have an image of the building.
AB: We wanted to give Eric complete freedom to write what he wanted. The book is also partly his, and the result delighted me more than surprised. We really collaborated over this project. You plunge into a text and breathe it in, come back up, and read the next one… The total lack of coherent order was a conscious decision, to excite the reader's curiosity. It is this that makes the particularity of the book.
EB: In architecture, as in literature, the narrative process enables creation. What does this imply for each of you?
AB: A narrative makes it possible to communicate a project that is not yet built by using words. The line of thought that is going to be developed, the narrative, we will carry throughout the duration of the project. In architecture, where unfortunately projects take so long, this storyline ties everyone into the project.
ER: When architects talk about narrative and storyline, are they talking about the building as the story, or the inspiration, restrictions, context, environment and history that led to the creation of that building? When you work on an architectural competition, the storyline that accompanies the documents is vital, particularly in these times of ultra-communication. But when you are in the building, the building itself recounts something, possesses its own narrative.
AB: The narrative is the story that accompanies the building; I don't consider it a descriptive narrative. What interests me is communicating an emotion. For competitions, I prefer to write an evasive introductory text, talking about infinity, absence – as with our library in Marne-la-Vallée, a mound of earth that will be overgrown by plants, is at last beginning to be – but at no point do I describe the building.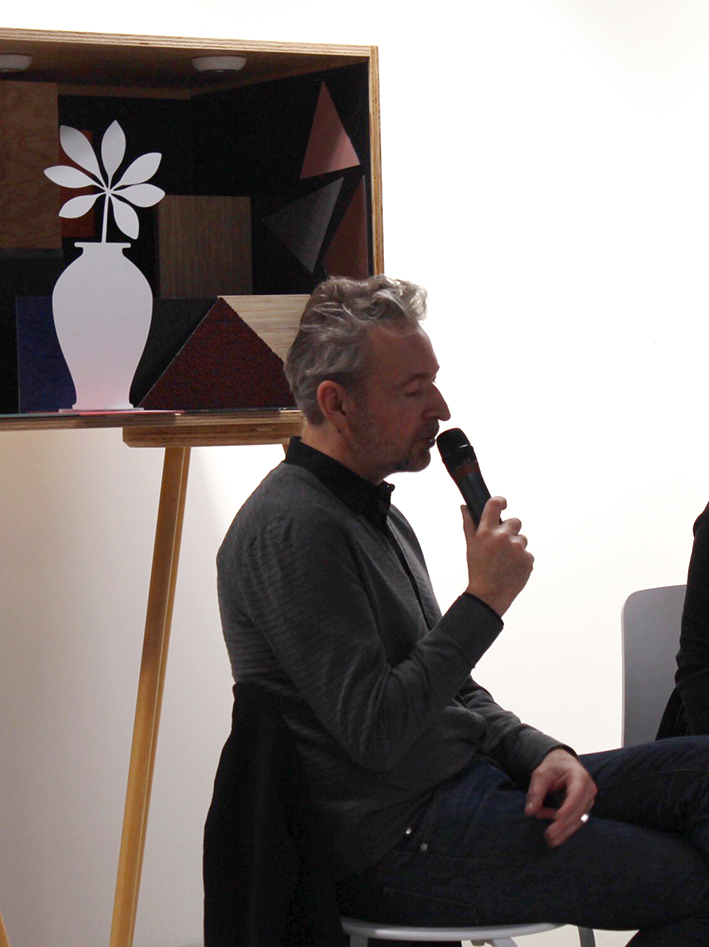 EB: Éric Reinhardt, in La Chambre des Époux ('The Spouses' Bedroom') you explain how your wife's illness transformed you "into an instrument without feeling " in order to finish a book (Cendrillon) as quickly as possible. So speed, urgency, galvanised the creative process. Is it not the other way round in architecture?
AB: I like that the project is the result of gradual maturing. It's true that today we are constantly having to do things quickly, to produce an immediate response. Clients will no longer accept the incertitude of an image. I remember my time working for François Seigneur. We used a lot of blue sponging and the project was represented by just a few marks of colour. We evoked. That whole mechanism, made up of moments of delight followed by doubt, does move things forward, but you need time. Today that way of designing is no longer possible, and I miss it: now we are asked for ultra-realistic images to be delivered in less than a fortnight.
ER: As far as I'm concerned I need to take my time. Cendrillon was a particular case. I wrote the first half of Cendrillon in two years, and the rest in six months because I was in shock. Indeed I have tried to recreate that same state of mind for other books but I've never managed to, and so much the better because it was pain and fear that took me there. I wanted to rise to the challenge, alongside my wife, while she was fighting cancer. It was the challenge that enabled me to write so quickly, as if my wife had been taken hostage and would only be freed once I had finished my book. What is certain is that the urgency produced a particular resonance. The book itself speeds up so it was fortuitous that this coincided with the creative process.
EB: Cendrillon is a structured novel. How does one build the architecture of a novel?
ER: I already had the principle, the concept, the form, and I had decided to write the four separate narrative voices and to assemble them later. That is a process that lies somewhere between architecture and film editing. Cendrillon is made up of blocks, each block devoid of indentations, new lines, new paragraphs. And the novel is made of this piling up of blocks. I made cardboard labels and on each label I put a number and the first line of the block, and coloured them according to the narrative voice. Then I spread them out on a large table and set about constructing my book. I saw my book a bit like you use your models in the studio. I had spread out the labels without anticipating that I might find interesting resonances between the texts, sometimes written a year apart.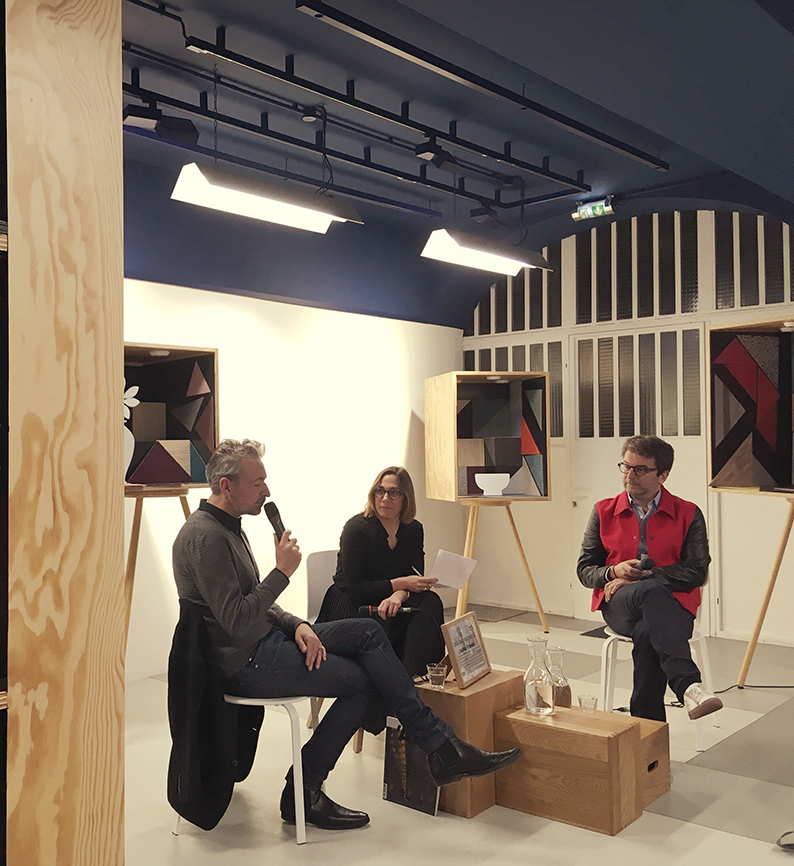 EB: In architecture, regulations are known to bridle creation, particularly in France. Aldric Beckmann, is this the case? Éric Reinhardt, what are a writer's regulations?
AB: I think that it's too easy to blame everything on regulations. In the studio we currently have the chance to build outside France, be it in Germany, Austria or Luxembourg, where there are also strict regulations, but where they are considered as elements with which one can play and engage. For example we are working with a building in Leipzig that is 100% prefabricated and 100% recyclable, transforming industrial heritage into political gesture. Rather than being subject to the regulations, we had to seize hold of them as a means of committing ourselves. The act of making architecture is above all an act of responsibility. Certainly it is an artistic endeavour, but it is an act of responsibility.
ER: I do what I can to avoid regulation, orthodoxy and received opinion. I try to free myself from all the conditioning and automatism in writing fiction. I always attempt to invent specific forms, which refer only to themselves. In my book Existence, there is not a single new paragraph or chapter. It is a novel in a single block. This is a constraint that I imposed on myself and which was like creating my own little hell. In fact after two years of work, I told myself that I would never again undertake such an exercise. I subsequently wanted to write a book giving myself absolute freedom, to go where I liked, take on any subject: intimacy, politics, industry, social determinism, sexuality, dance… I wrote Cendrillon, which sprung from a desire to invent a form with no restrictions at all. I made a place of freedom for myself, which I never would have done had it not been for the penitentiary experience of Existence.
Discover the entire article in the issu 423 of L'Architecture d'Aujourd'hui.