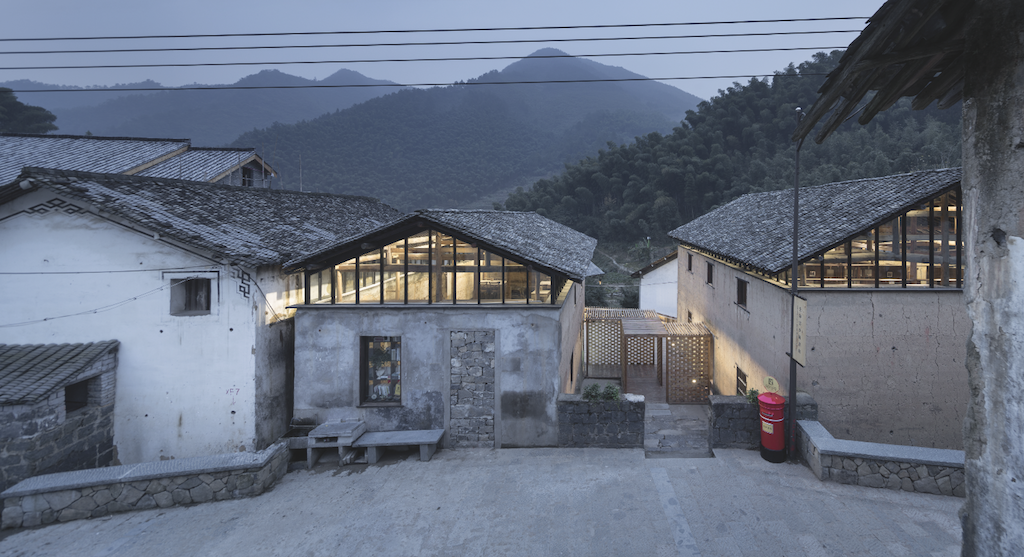 Founder of eleven Librairie Avant-Garde bookstores, amongst which one in Nanjing, Qian Xiaohua called on architect Zhang Lei (AZL Architects) to transform two mountain houses in the village of Daijiashan, perched at 850 metres above sea level in Zhejiang Province in China. Interview with a committed client.
In less then thirty years, Chinese society has destroyed almost all of its ancient built heritage in favour of unbridled urbanisation. Paradoxically, the measures taken to protect heritage have often led to its destruction. In other words, the preservation of a small part of the built heritage, most often exploited for tourism, goes hand in hand with a tabula rasa approach aiming to modernise society. It is therefore in the less developed territories that heritage is, by default, best preserved. For example, South of Hangzhou, in Zhuji, Shaoxin County, it is still possible to find houses and spatial forms of organisation going back to the Qing dynasty (Qianzhuwu 千 柱 屋). These same forms have been completely erased in the developed territory of Hangzhou. Is it now possible to intervene in rural areas without deploying a purely commercial strategy? The answer is yes when looking into the case of Qian Xiaohua, who entrusted architect Zhang Lei, founder of AZL Architects office in 2002, with the transformation of old structures in remote areas and thus initiated a virtuous spiral of local development. In one project, he turned two old houses into a bookshop in a mountain village located in Zhejiang Province, Eastern China. This smart and low-key transformation shows no destruction in the name of standardisation or any excessive ego.
To read the excerpt of this article written by Olivier Greder , click on the picture below.  
This article has been published in AA's 431th issue – China's committed architects – released in June 2019, still available on our online shop.