AA shares with you his selection of books: architecture, urbanism, art, essays, exhibition catalogues…
To read in issue No. 431, still available on our online shop.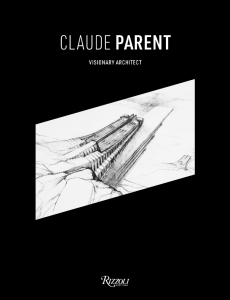 Claude Parent, Visionary architect
Contributions par Donatien Grau, Pascale Blin, Frank Gehry, Jean Nouvel, Odile Decq, Wolf D. Prix, Frédéric Migayrou, et Azzedine Alaïa, Rizzoli New York
June 2019, 224 p., illus., 69€
Financial Times critic and AA contributor Edwin Heathcote says of Claude Parent's drawings that "in their ambition they not only presage Daniel Libeskind and Zaha Hadid, they arguably surpass them". More than three years after the death of the author of the 'oblique function' (with the late Paul Virilio), Chloé Parent pays a magnificent tribute to her father by publishing, with the complicity of the architect's grandson Laszlo Parent, a collection of personal accounts by some of those for whom his influence was crucial, and above all a book containing breathtaking drawings, some of which are published for the first time. A book aimed at enthusiasts and also at anyone who knows just how one person can change the course of a discipline.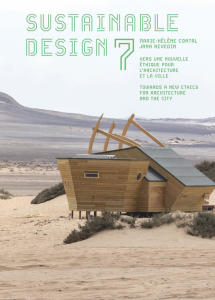 Sustainable Design 7, vers une nouvelle éthique pour l'architecture et la ville
Marie-Hélène Contal et Jana Revedin, Cité de l'architecture & du patrimoine avec les éditions Alternatives
May 2019, 156 p., illus., 25€
Since its launch in 2007 by Jana Revedin and the Cité de l'architecture & du patrimoine, the Global Award for Sustainable Architecture, which recognises each year five architects who conduct sustainable and innovative practices, has really revealed talents, discovering first-hand some of the greatest names in global architecture. Wang Shu (2007), Alejandro Aravena (2008) and Bijoy Jain (2009) are among its 60 winners. The catalogue of the 2018 award was published last May alongside the 2019 award ceremony. It includes famous and lesser-known figures, including French architects Lacaton & Vassal but also Marta Maccaglia in Peru and Boonserm Premthada in Thailand. An essential collection consisting exclusively of committed professionals.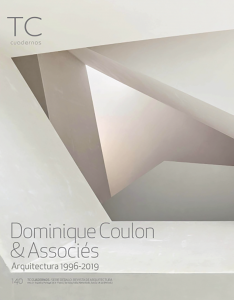 Dominique Coulon & Associés, Arquitectura 1996-2019
Sous la direction de Ricardo Meri de la Maza, TC Cuadernos
March 2019, 338 p., illus., 35€
For more than a decade, architects have gained experience in the exercise of the monographic publication, which has become a communication tool as well as a means of summarising thoughts and rhetoric or to collect photos and drawings. Regardless of the goal and the layout, we have been waiting for some time for a publication that brings together documents presenting the work of Dominique Coulon, doubtless one of the most talented of his generation and one of the few French architects able to handle colour as well as volumes.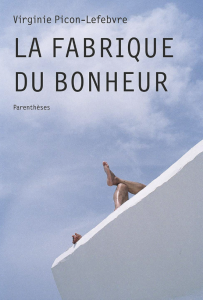 La Fabrique du bonheur
Virginie Picon-Lefebvre, Éditions Parenthèses
April 2019, 256 p., illus., 26€
Architect and urban planner, professor and researcher, Virginie Picon-Lefebvre, who teaches architectural culture and history at the ENSA Paris-Belleville, looks at recreational architecture here. From ski resorts to holiday villages, Jean Balladur's Grande Motte to Disneyland's Newport Bay Club Hotel in Marne-la-Vallée by Robert A.M. Stern, these "places of happiness" form a specific typology that reveals the "aspirations and contradictions of society as a whole"